Canadian Wood 2nd webinar explains building techniques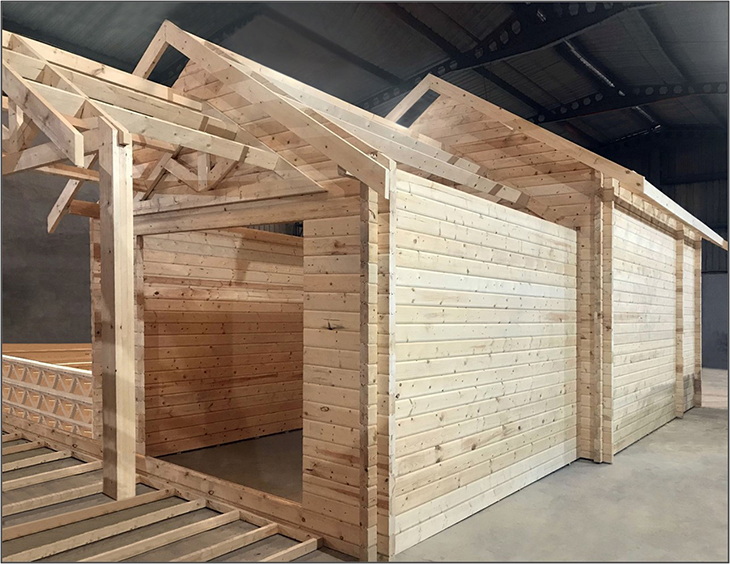 Tongue-and-Groove construction.
Forestry Innovation Consulting India Pvt. Ltd., popularly known as Canadian Wood, has been actively promoting building with wood sourced from the sustainably managed forests in British Columbia, Canada.
Educational seminars and training workshops by Canadian Wood have helped promote awareness about its wood species, specific applications, and appropriate methods of use.
With the Covid-19 scenario posing limitations of physical engagement, Canadian Wood has substituted its educational seminars with a series of webinars. Canadian Wood hosted its first webinar on 'Wood in Structural use: Features and Benefits'.
The 2nd webinar, involving a more advanced sharing of knowledge, focused on 'Wood in Structural use: Building Techniques'. Well known architects, real estate developers, structural engineers and hospitality sector professionals participated in the webinar.
Peter Bradfield, technical advisor at Canadian Wood, presented to the audience different styles, methods and detailing on building with wood. Building methods such as Tongue-and-Groove (T&G), Wood Frame Construction (WFC), Posts-and-Beams and Hybrid style – the latter uses wood in tandem with local stone and/ or bricks – were demonstrated to the audience.
These were showcased along with credible examples of several successful projects that Canadian Wood has partnered in by providing material or technical assistance or both, across India.
Benefits and features associated with every style of building were also elaborated upon in the webinar while highlighting the associated best practices. Various topics like wall frame design, WFC wall construction, soil treatment for termites, pest mitigation in wooden structures, key points for site preparation and foundation, roof design, water-proofing, weather shield, fire safety and noise abatement were discussed in detail.
Other topics – such as flashings to divert or control water run-off, water-proofing of roofs and decks, gutters and downpipes, ventilation, cladding choices, and landscaping were also elaborated upon. You can watch the entire webinar at https://youtu.be/NIcNXfQfGwc.
Bradfield said, "Building with wood means conforming to a system, without deviation and without taking shortcuts. In India, though building with wood is still in its nascent stage, adherence to the systems and best practices will help overcome the inexperience and add to the understanding and execution of successful projects."
Canadian Wood can help architects, developers, builders and PMCs with technical assistance, sourcing of wood and hand-holding, as it has effectively done in the past.
Pranesh Chhibber, Country Director, FII India, stated, "With social distancing here to stay for some time, Canadian Wood will continue its series of webinars as an important tool to leverage for knowledge sharing and staying connected with our target audience.
"Going forward you can look forward to webinars on different topics involving use of wood in furniture, doors/windows and door/window frames, interior and outdoor applications and many others," he added.
Asserting on the importance of the topic of the 2nd webinar, Chhibber said, "It was a part of the series in response to the growing interest amongst architects, real estate developers and hospitality industry, to think of projects with wood as construction material. Additionally, private villas, country homes and farmhouses in wood are fast catching the fancy of HNIs in India." (www.canadianwood.in)
Comments